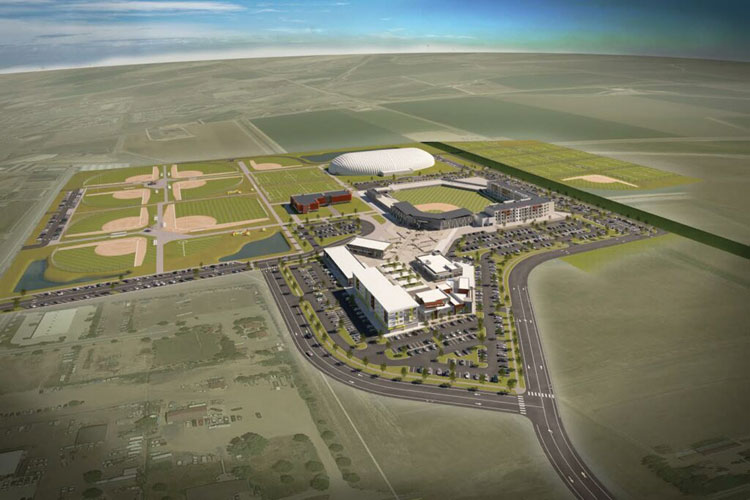 NoCo town straddles Larimer, Weld counties
WINDSOR — Windsor not only extends into two diverse counties but also embraces a diverse base of industries. Combining small-town charm with consistent growth, this town located about halfway between Fort Collins and Greeley has become the region's boomtown, doubling its population in the past decade and projected to double again in the next.
Windsor was created when the area's first settler, J.L. Hilton, built a house in 1873. Farmers were drawn to the area's rich alluvial soil, and the Greeley, Pacific and Salt Lake Railway established a depot in the area in 1882, and Windsor was incorporated in 1890. A tornado that struck the town in 2008 caused about $193.5 million in damage from about 24,000 auto and homeowner claims.
Sports and recreation play a key role in Windsor, which works constantly to bring in even more.
In the past year, Windsor's new Future Legends Sports Complex has attracted minor-league soccer and baseball teams. The complex is home to Northern Colorado FC, a new professional soccer team that will play in the United Soccer League's League One, and the Orem Owlz, who moved from Utah to Windsor as part of an eight-team Pioneer League.
Getting that sports complex built took some resourcefulness. Larimer and Weld county commissioners in 2020 pulled their support for the sprawling project, threatening the town's eligibility for $20 million in low-interest state loans that would have funded 15% of the budget for the complex, which saw construction begin in November 2019 and had been forecast to generate 1,500 jobs. But about five weeks later, the Town Board voted unanimously to approve creation of two metropolitan districts and a business improvement district to help finance the project, which includes facilities for multiple sports, retail and hotel space.
The town's Parks, Recreation & Culture Department maintains more than 200 acres of parks, sports fields and open space, 40 miles of trails, a skate park, and a beach and boat launch on Windsor Lake. Three golf courses are located in the town.
Annual events in Windsor include Independence Day activities, a farmers market, Halloween carnival, Movies in the Park, Magical Forest, a summer concert series, a car show, a harvest festival, Windsor Wonderland and "Yappy Hour."
Windsor emerged as the top submarket in Northern Colorado for new-home starts, according to MetroStudy. The 25-acre East Pointe Neighborhood Centre brought new retail to the corner of Colorado Highways 392 and 257, and Columbine Health added a 45-bed skilled nursing facility and 45 independent-living apartments at its Windsor campus.
Windsor boasts one of the region's largest residential developments, the 1,500-acre Water Valley master-planned community. Water Valley includes the 27-home semi-private Pelican Lakes golf course, which features more shoreline than any other golf course in the United States. The Good Samaritan Society-Water Valley Senior Living Resort Community is expanding to add assisted-living and memory-care services.
Marriott International opened its new SpringHill Suites hotel in summer 2020 in Windsor.
The leading industries in Windsor also are diverse. Vestas Wind Systems, the town's largest employer, has added jobs in Windsor and Brighton as contracts come in for wind-turbine projects. CPP Wind Engineering and Air Quality Consultants moved its headquarters and wind-tunnel testing facilities from Fort Collins to leased space in Windsor.
Vestas and several other companies are located in the Great Western Industrial Park, a 3,000-acre, rail-served park zoned for heavy industry. The park is owned by The Great Western Development Co., an affiliate of The Broe Group of Denver.
Poudre Valley Health System and Banner Health also lend to Windsor's economic viability.
Windsor stays true to its farming roots. Weld County has the strongest dairy growth in the state, enough to incentivize Dairy Farmers of America to open a Windsor office.