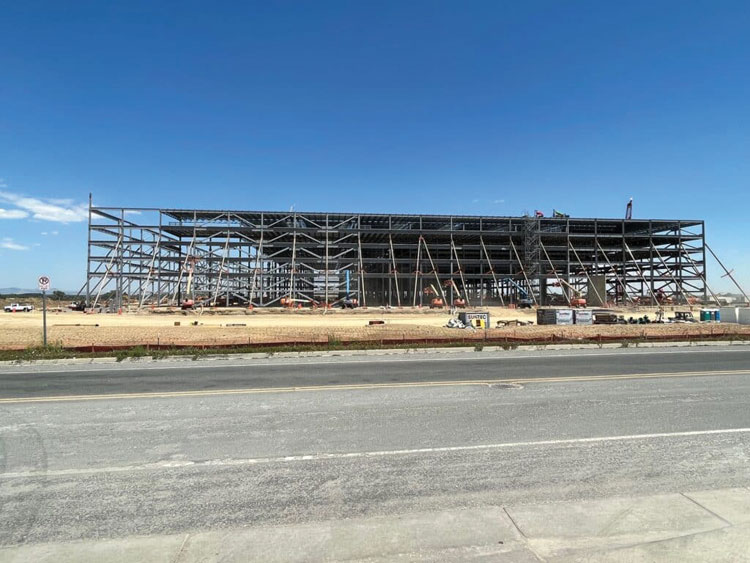 Heartbeat of business powers Sweetheart City
LOVELAND — In terms of economic-development blockbusters, these are heady days for Loveland.
Many people who live in the Larimer County city are used to getting deliveries from Amazon — but nothing quite like this one. The online retailer will deliver a 3.87 million-square-foot fulfillment and distribution facility — one of Loveland's largest-ever developments — on newly annexed land along County Road 30 west of Interstate 25, where around 1,000 employees will work alongside robots to fill customers' orders.
And more large-scale projects may be on the way to Loveland. Near the Amazon facility, developer Martin Lind, who heads Windsor-based Water Valley Co., wants to build the Rocky Mountain Grand Resort and Conference Center, a complex that would include a 69,000-square-foot conference center, a 390-room hotel and a 85,000-square-foot water park with 11 slides as well as cabanas, party rooms, a food court and gift shop. The developer's plan also includes a 40,000-square-foot outdoor courtyard recreation area with a reflecting pond, a 10,000-square-foot family entertainment center, several restaurants including a rooftop eatery, a sports bar, spa, fitness center and arcade.
The heartbeat is strong in the self-proclaimed "Sweetheart City" with new retail and office developments, residential projects and a continuing commitment to culture. That pulse even is felt in Loveland's new Pulse broadband utility.
Seemingly with every move, Loveland works to lure business to its central spot on the booming northern Front Range urban corridor and persuade tourists headed for Rocky Mountain National Park that this city "on the way up" is worth more than a brief visit or a pass-through. To help tell the love story, Visit Loveland, the city's tourism arm and destination marketing organization, has a new, all-digital visitor guide.
Loveland is world famous for its annual program in which valentine cards are funneled through its post office to have holiday postmarks added. In the face of a COVID-19 pandemic that often proved deadly to businesses as well as residents, the Larimer County city did what it does best: spreading love. For instance, the city and the Loveland Downtown District created a $26,000 fund in early 2021 to provide assistance to businesses for outdoor dining programs to compensate for indoor capacity reductions due to the coronavirus. The Loveland Patio Assistance Program provided grant funding of $500 per business to assist with purchase of outdoor heaters for seating areas and propane to fuel them, the cost of tents or other structures used for outdoor seating, and tent repairs from the wear and tear of outdoor use.
Largely driven by the arts, Loveland has poured money and time into renovating its downtown and supporting local business. Part of that downtown revival is embodied by the largest redevelopment effort in its history: the $76 million Foundry project, a mixed-use renewal plan originally called "South Catalyst" and built in partnership with Brinkman Partners of Fort Collins and Boulder-based OZ Architecture. Part of that development is a hotel complex that includes 1,000 square feet of divisible meeting space.
Minnesota-based nonprofit Artspace is redeveloping Loveland's historic Feed and Grain building to provide live-work space for artists and others.

In an equal partnership between the city and a private developer, The Rialto Bridge Project included an expansion and renovation of the city's historic Rialto Theater. With the purchase of two buildings to the west, the theater was expanded to a 20,000-square-foot, three-story, full-fledged performing arts center, complete with a restaurant, offices for rent and a community meeting room.
Numerous other downtown Loveland buildings have undergone renovation, including the historic Arcadia Hotel at Fourth Street and Cleveland Avenue.
On the city's south side, the Forge campus – formerly home to Hewlett-Packard Co. – is becoming a hotbed for electrification. Veloce Energy Inc., a company developing modular devices to make electrification easier, is moving from its north Fort Collins location into the Forge as it expands, joining electric delivery vehicle manufacturer Lightning eMotors Inc. and Loveland's Warehouse Business Accelerator.
Loveland's fastest-growing industry is health care, with McKee Medical Center and the Medical Center of the Rockies — now designated a Level 1 trauma center — topping the city's employment charts. Banner Health is adding new mental-health services for older patients at McKee, while UCHealth made MCR the first hospital in the Rocky Mountain region to offer the implantable Remede System for patients with central sleep apnea. Late May saw the grand opening of a 76,000-square-foot Veterans Affairs outpatient clinic, featuring facilities for outpatient and dental care in a new, centrally located facility on 12 acres.
A remodeled library, expanded city center, posh new apartment buildings, a museum renovation and the revitalization of several business facades are just a few examples of the facelift the city is undertaking.
The Promenade Shops at Centerra, a proposed redevelopment of the Ranch fairgrounds and events complex, and the promise of more development along the Interstate 25 corridor have boosted Loveland's economic momentum.
The city is home to Meyer Natural Foods LLC, a natural-beef company; and Agfinity Inc., a farm supply co-op that moved its headquarters from Eaton to a space in Loveland's Crossroads Business Park. National civil engineering and surveying firm Manhard Consulting Ltd. also recently opened a new office in Loveland.
Loveland's business community is diverse, including Hach Co., developing water-testing equipment; Group Publishing Inc., a publisher of ministry resources for Christian churches; Agrium Inc., which provides fertilizer products for agriculture; Heska Corp., which develops veterinary pharmaceuticals; and a large Wal-Mart Stores Inc. distribution center.
Housing developments under construction dot Loveland's landscape, and new ones include a 58-unit independent living complex for seniors in the northwestern part of the city.
It helps that Loveland is near the epicenter of the state's Higher-Education Triangle, with the University of Northern Colorado to the east, Colorado State University to the north and the University of Colorado Boulder to the south, all less than an hour's drive away. According to the most recent figures, 32% of Loveland's population ages 25 and older holds a bachelor's degree.
The Colorado Eagles, a minor-league professional hockey franchise, plays at the Budweiser Events Center and the annual Loveland Sculpture in the Park brings hundreds of artists from all over the world to show and sell their artwork. The city is home to numerous galleries, extensive public art displays and local foundries.
Transportation is an ever more important focus in the Loveland area. COLT buses provide transportation on three routes within the city and have deployed a new platform that includes a public website and mobile apps for Android and iOS. Transfort's FLEX intercity routes connect COLT with Fort Collins, Berthoud, Longmont and Boulder, and the Colorado Department of Transportation's Bustang route provides a quick link to Denver, Colorado Springs and mountain recreation areas. Work continues on a north Interstate 25 express-lanes project, as well as extensive improvements at I-25 and Colorado Highway 402, and Northern Colorado Regional Airport continues to add improvements and upgrades.