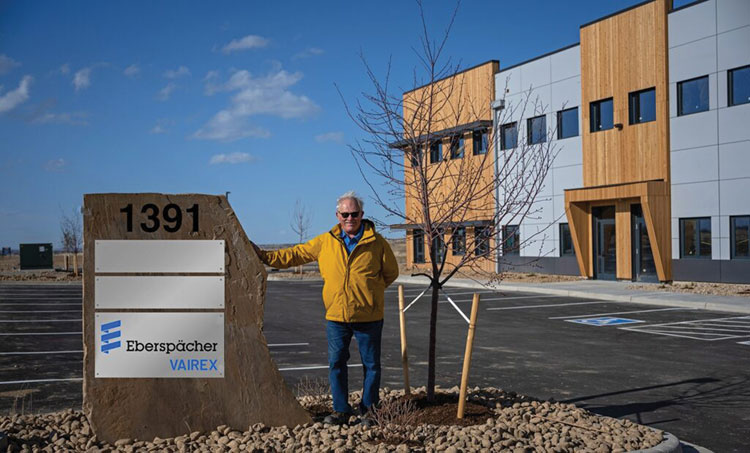 Southern BoCo city touts affordability
LAFAYETTE — Steered by a comprehensive plan that will help guide the city's evolution through 2040, Lafayette remains committed to cementing its reputation as the affordable alternative in southern Boulder County. The city strives to grow while still maintaining a small-town feel.
Lafayette boasts a variety of single-family neighborhoods surrounded by parks, along with a Hale Irwin-designed public golf course.
Lafayette's efforts to lure businesses from more expensive nearby venues also is paying off.
Medtronic, a medical-device maker with operations in Louisville and Boulder's Gunbarrel neighborhood that has a reputation for world-class innovation, is consolidating its local business into 400,000 square feet of new office and laboratory space spread across two, five-story buildings on a 42-acre tract in southern Lafayette. Of that, 60,000 square feet will be dedicated to research and development, a 10,000-square-foot increase over Medtronic's footprint in the region. About 1,100 employees will relocate to the Lafayette campus while others keep working in Boulder.
Another transplant to Lafayette from Boulder was software-development training firm DevelopIntelligence LLC, which bought a building in Lafayette for $2.05 million and moved there in 2017. The next year, Loveland-based Gracon LLC, which builds and maintains the nation's dams and hydroelectric power plants, announced it would move its headquarters to Lafayette.
The Lafayette City Council reacted quickly to COVID-19, providing emergency relief grants to small businesses experiencing challenges from the pandemic, in a program run jointly with the Lafayette Urban Renewal Authority.
A farm stand grows fresh produce on an open-space parcel. The town's main street, South Public Road, is lined with locally owned shops and restaurants, and in non-pandemic years plays host to annual festivals including the Quaker Oatmeal Festival, the Summer Fun Fest, Peach Fest, Celebrate Lafayette and Home for the Holidays. Lafayette held a Juneteenth celebration for the first time in 2022 and designated all of June as Pride Month..
The nonprofit World of Wonder Children's Museum boasts interactive and informative educational exhibits for toddlers and children, along with creative programs to stimulate learning and child development.
Plans for a 24,000-square-foot indoor curling facility in the Trailhead Business Park, east of 120th Street and Overlook Drive, are in the works, and a revitalization effort is under way on downtown's East Simpson Street, one of the town's historic hubs.
Ride Free Lafayette, a free door-to-door bus service, was launched in 2020. The city also created an active transportation map to illustrate bicycle and pedestrian routes throughout the city to get residents from point A to point B in a safe manner or a more direct route. The map not only helps guide people through town but also is an information piece that shows people the fastest and safest route to get across town. Lafayette also looks forward to transit-oriented development as well, encouraging the Regional Transportation District to sharpen its focus on its northwest corridor.
The Boulder County Housing Authority advanced plans for a new neighborhood of 400 affordable homes, duplexes and apartments in the 24-acre Willoughby Corner development.
Located at the crossroads of Colorado Highway 7, U.S. 287 and the Northwest Parkway, the city continues to attract commercial growth.
Boulder Community Health partnered with Albuquerque, New Mexico.-based Ernest Health Inc. to build a free-standing 40-bed rehabilitation hospital in Lafayette. The sprawling, full-service Good Samaritan Medical Center has generated more development around it — including plans for hotels, retail, restaurants and medical offices on the nearby SoLa tract. To the east, Denver-based Stem Ciders developed The Acreage, a restaurant and cider-distribution center surrounded by orchards, gardens and patios with a stunning mountain view.
Class A office space often sought after by companies is available throughout the city, including at the Creekside Offices at Old Laramie Trail. On the east side of the city, Vista Business Park has space for industrial and flex office buildings. Lafayette's Corporate Campus 119-acre office park is home to some of its most well-known employers, from Kaiser Permanente to Thermo Fisher Scientific Inc. Offices of Epsilon and Meretek Diagnostics Inc. also are located there. The Lafayette Tech Center, a 59-acre office and industrial park, has more regional heavy-hitter companies, from the U.S. office of Lafuma Corp. to Sporian Microsystems Inc.
Blue Canyon Technologies Inc., a Lafayette-based small satellite manufacturer and space mission service provider, was selected to build a spacecraft bus for the Canadian Space Agency and Honeywell International Inc.'s Quantum Encryption and Science Satellite (QEYSSat) mission.
Lafayette and neighboring Louisville have partnered with the Boulder County Small Business Development Center to provide free resources to small, local businesses.