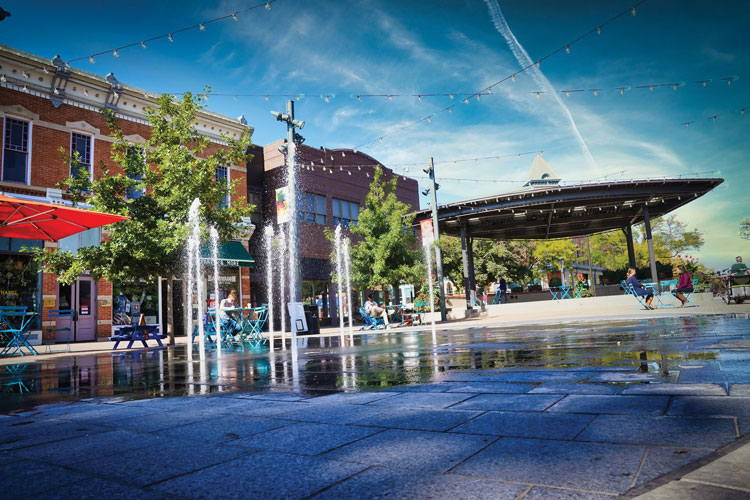 Vibrant NoCo city an eclectic magnet
FORT COLLINS — Beer, bikes, bands and brains make Fort Collins a great choice for residents and businesses alike.
Located 60 miles north of Denver along Interstate 25, the Larimer County seat is Colorado's fourth largest city, with a population that has swelled past 170,000. It offers choices in education and employment, restaurants and retail, health care and housing, arts and entertainment. These opportunities have helped make the city one of the nation's entrepreneurial hotbeds, luring high-tech companies, craft breweries and other startups, and encouraging firms such as Persistent Systems LLC to triple its space.
Its spirit of innovation helped get it through the COVID-19 pandemic. Fort Collins allowed some businesses to operate temporary outdoor dining and retail areas in the public right-of-way, permitted religious organizations to hold drive up services on their property provided that attendees remain in their enclosed vehicles, and moved the Taste of Fort Collins to later in the summer so proper precautions could be taken. The Fort Collins' visitor bureau helped out by launching a new service to let customers in the city or across the country buy goods and services from local vendors from one centralized website and payment system.
The city continues to garner national recognition. Liveability.com rated Fort Collins as the top place to live in the country. The Milken Institute's 2021 Best Performing Cities index rated Fort Collins 12th best in the nation, outranking Greeley (43) and Boulder (44). Additionally, it finished second only to Boulder in Bloomberg's national Brain Concentration Index, which looks at metro areas with a population of 90,000 or more that have a high concentration of STEM workforce, advanced degree or science and engineering undergraduate degree holders, as well as a strong net business formation.
Many of those brains are developed at Colorado State University, with programs in engineering, energy research, business, veterinary sciences, bioscience and other disciplines. The Veterinary Teaching Hospital is regarded as one of the top such programs in the country, and CSU was named to a list of best online MBA programs for marketing by college resource provider MBA Central. In June, its Energy Institute received $1 million from the U.S. Department of Energy to support energy innovation and commercialization.
In a report released early in 2021, CSU estimated that its activities supported more than 22,800 jobs and generated $237.74 million in tax revenue for the state in 2019 between its two physical campuses and CSU Global.
CSU and the University of Colorado partnered to bring a CU School of Medicine branch to Fort Collins, and Emerson Electric Co. partnered with CSU to build the Emerson Brewing Innovation Center, which in non-pandemic times will give students hands-on learning opportunities in automation technologies. The center will be part of CSU's Fermentation Sciences and Technology program.
CSU's three-building "Spur" campus on the National Western Stock Show grounds in Denver focuses on veterinary science, water issues and food and agriculture.
CSU works closely with federal laboratories, several of which are located in Fort Collins. The Centers for Disease Control and Prevention's Division of Vector-Borne Infectious Diseases is located in Fort Collins and offers research into dengue fever, Lyme disease, West Nile virus and other ailments.
CSU also operates the Rocky Mountain Regional Biocontainment Laboratory on the university's Foothills Research Campus, and the $220 million on-campus football stadium that opened in 2017 is the most visible part of the university's massive, billion-dollar building boom.
The federal government also maintains a significant presence in the area, including the National Seed Storage Laboratory, a visitor center for the Arapaho-Roosevelt National Forest, National Wildlife Research Center and the National Institute of Standards and Technology, to name a few.
Fueled by a highly educated workforce, Fort Collins hosts operations of some of the largest technology companies in the United States, including Hewlett-Packard Co., Avago Technologies Inc., Advanced Micro Devices Inc., Intel Corp. and many others.
Job growth in the Fort Collins metropolitan statistical area — comprised of Larimer County — has joined a tight inventory in driving up median home prices, but the market has responded with a litany of new projects.
The city hopes to drive economic development with its new Fort Collins Connexion municipal broadband services.
Energy is another of the city's prominent sectors. Advanced Energy Industries Inc. (a Fort Collins-birthed company) and Woodward Co. are both headquartered locally.
The city continues to launch environmentally conscious initiatives. The city partnered with the Larimer County Conservation Corps to provide free services to residents that will help them reduce their home water and energy consumption in their homes. Fort Collins also was one of two cities whose public power utilities earned a Smart Energy Provider designation from the American Public Power Association.
A renovated plaza anchors the city's popular Old Town district, which now boasts a hotel, the Elizabeth. Spirit Hospitality planned a hotel and restaurant within the city's Community Commercial Poudre River District in a development known as Spirit at the River.
Otter Products LLC, one of Fort Collins' biggest success stories, expanded its footprint downtown. An innovator of protective cases for handheld-device manufacturers, wireless carriers and distributors, it started as a small venture in 1998 and now is one of the fastest-growing privately owned companies in the nation.
Innosphere, an engine for job creation, showcases area startups, and acts as a catalyst for entrepreneurship, providing programs and services to scientific and technology-based ventures, as well as network opportunities for its clients.
Fort Collins' craft beer culture supports more than a score of microbreweries and brewpubs; the largest remains New Belgium Brewing Co., with a growing national distribution network. The city also is home to the largest brewer in the world, Anheuser-Busch.
Along with the beer, Fort Collins' social culture thrives on its local music scene. Besides a full slate of summer festivals, Lincoln Center is home to the Fort Collins Symphony Orchestra and also attracts national touring companies of Broadway plays, comedians and speakers and the annual Tri Media Film Festival. A Music District was developed by the Fort Collins-based Bohemian Foundation as a hub for musicians, music-related businesses and nonprofits.
UCHealth Poudre Valley Hospital opened a 14-bed rehabilitation unit to help people who have experienced major injury or illness to regain the skills necessary for everyday life. It also conducted a $76.5 million renovation at PVH, including a new heart and vascular care clinic and testing area, as well as revamping surgical, imaging, gastroenterology and pulmonary areas, relocating the gift shop, coffee shop and chapel, and updating hallways. Meanwhile, Banner Health opened the Banner Fort Collins Weight Loss Center, and a comprehensive weight-loss program that addresses the medical, behavioral and nutritional needs of clients, and Front Range Community College received accreditation for its baccalaureate degree program in nursing from the Commission on Collegiate Nursing Education, just a few months after issuing its first four-year nursing degrees.