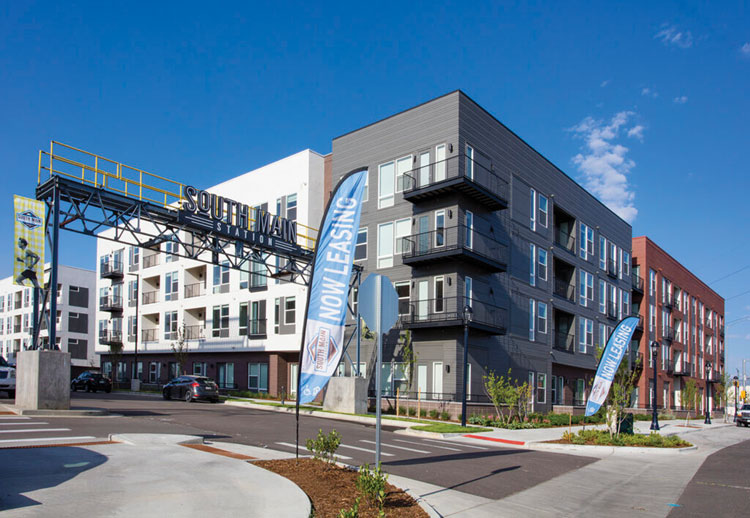 Growing BoCo city thrives on technology
LONGMONT — Once home to an economy dominated by agriculture, Longmont has more than doubled in population in four decades, now exceeding 100,000 in population, and makes a global impact with cutting-edge technology.,
With its NextLight municipal broadband service ranked second fastest in the nation for offering 1-gigabyte speeds for businesses and residents, Longmont has become one of the main hubs for computer and data storage in the United States. Hard-drive makers have a significant presence in Longmont, along with more than 20 other information-technology hardware companies. Longmont also has several industry clusters with employment exceeding 500, including software, biotechnology, business services, semiconductors and food processing. It has realized a data-center concentration in recent years and hosts numerous national firms.
Tech companies, especially startups, favor Longmont for its educated workforce, economic incentives, and lower real estate prices and electric rates. All those prompted AstraZeneca to acquire Amgen Inc.'s campus for $64.5 million nearly five years ago. In 2019, AstraZeneca decided to close its plants in Boulder and Longmont, but AveXis, a Swiss biologics company owned by Novartis, announced plans to purchase the Longmont facility as an advanced biologics therapy manufacturing campus. Then in July 2021, Bothell, Washington-based AGC Biologics Inc., a pharmaceutical manufacturing company that broke onto the Boulder County bioscience scene last year when it took over the vacant AstraZeneca LP plant in Boulder, said it would buy the campus, which has 622,000 square feet of operations and office space within six buildings on 229 acres.
J.M. Smucker Co. broke ground in 2020 for an approximately 240,000-square-foot addition to its Longmont Uncrustables manufacturing plant, which is planned to be operational by this fall.
Longmont's growth continues to be healthy — sometimes literally.
At Longs Peak Hospital, which opened in 2017 at the city's eastern gateway, UCHealth began providing senior health and activity programming through an expansion of its Aspen Club. UCHealth also opened the UCHealth Refractory Depression Clinic, and this spring opened a four-story outpatient facility just east of the hospital.
Meanwhile, Longmont United Hospital, part of the Centura Health family, remains vibrant with its own full range of top-ranked medical care on the city's northwest side, while a new Advanced Vision Surgery Center is planned for Longmont's southwest corner. This spring, LUH became the first private hospital in the state with unionized nurses.
Breweries tap the city's thirst for fun, with Left Hand Brewing Co. and Oskar Blues Brewery leading the pack and newcomers such as Dry Land Brewing adding their own flavors.
A decision in 2016 by the Longmont Area Economic Council to change the last word in its name to "Partnership" symbolizes the city's more comprehensive, collaborative strategy for luring business and including more segments of the populace in the benefits of growth.
Longmont is embracing that mission by enhancing its business-friendly climate while still celebrating its proximity to the entrepreneurial hotbed of Boulder, the rest of the Denver metropolitan area, the rapidly growing communities of Northern Colorado and Rocky Mountain National Park.
Longmont's economic-development team focuses on attracting primary jobs to the city — or companies whose products and services are sold outside the area. This brings outside dollars to Longmont to help fuel prosperity.
Support has grown for Latino-owned businesses as well. The nonprofit Longmont Entrepreneurship for All, launched EparaTodos, which translates to EforAll in English. EforAll is a twice-a-year accelerator program and pitch contest replicated with Spanish-speaking mentors.
Real estate prices — both commercial and residential — are rising along with those in the rest of the Front Range but still can be less than in nearby Boulder. This allows businesses and families to live and work affordably in Longmont. The Boulder County Housing Authority built The Spoke on Coffman, 73 permanently affordable rental units near downtown Longmont.
One in two respondents for the Longmont Economic Development Partnership's 2021 Workforce Perceptions Study said the city's businesses and amenities offer "the perfect work/life balance." Longmont provides its residents with plenty of retail options, including downtown Main Street shopping and big-box stores such as Walmart, Target, Best Buy, Home Depot and Lowe's spread throughout the city.
The former Twin Peaks Mall was replaced by Village at the Peaks, which now includes a Sam's Club, a Whole Foods, a Gold's Gym, a large liquor store and a multi-screen movie theater, but is perhaps best known for its wide variety of restaurants.
In the face of the economic upheaval caused by the COVID-19 pandemic, the Strongmont Grant Fund, launched by the Advance Longmont Business Response team and managed by the Longmont Community Foundation, issued grants of up to $10,000 to 23 local small businesses. In June, the Longmont Downtown Development Authority offered its own grant to alleviate some of the pressure business owners were feeling and help them safely reopen. The LDDA also offers business and property owners several incentives to support the maintenance and improvement of historic buildings.
The city has its own recreation center, live theaters, one private and three public golf courses, and an outdoor sports complex at Sandstone. The Stewart Family Foundation, the entity that continues the legacy of the late Longmont resident Lila Jean Stewart, donated $1 million to the Longmont Museum.
Several new hotels have sprung up on the city's southwest side, and four marijuana dispensaries opened within the city limits, joining two already operating on unincorporated Boulder County tracts adjacent to the city.
The St. Vrain Valley School District provides kindergarten through 12th-grade public education throughout the city, and Front Range Community College's Boulder County campus is based there. Front Range, celebrating its 52nd anniversary, is developing a 27,000-square-foot manufacturing technology center in Longmont that will become the new home to two programs and permit the operation of two new, accredited technology programs.
Longmont has Regional Transportation District bus service, with local routes as well as regional connections to Boulder and Denver, and eventually may be served by its FasTracks commuter-rail service. Transit-oriented development is already springing up near what may become the computer-rail depot, with new residential and commercial spaces on the former sites of a flour mill and the Longmont Foods turkey-processing plant.
Transfort's FLEX buses connect Longmont and RTD commuters with Berthoud, Loveland and Fort Collins.
The Colorado Aeronautical Board approved a $400,000 grant for Longmont's Vance Brand Municipal Airport, to be partly matched by $322,223 in city funds for a $722,223 utility infrastructure installation project there. The U.S. Department of Transportation gave the airport $722,222 for drainage and erosion control.