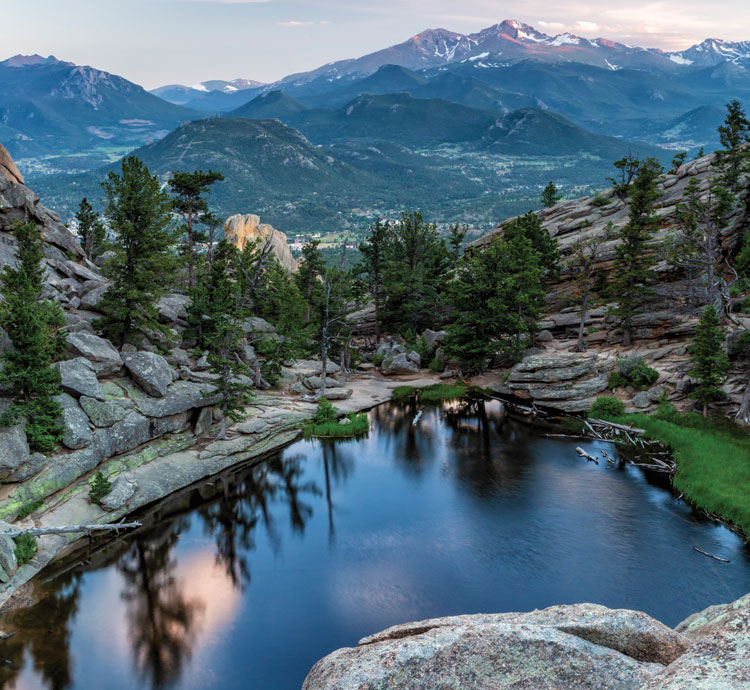 Scenic mountain village meets every challenge
ESTES PARK — Tourism remains the prime economic driver for Estes Park, the village at the eastern gateway to Rocky Mountain National Park. As legendary as its scenery, however, is its resilience.
It survived the deadly 1976 Big Thompson flood that destroyed a prime access route. It survived the 1982 Lawn Lake dam break, which buried its downtown in knee-deep mud at the height of the tourist season. It survived a one-two punch in 2013, when washed-out roads on all sides blocked entry and a subsequent government shutdown closed the national park. And when the COVID-19 pandemic forced closure of the park and the town's overnight accommodations, it again weathered the storm.
But in autumn 2020, it survived perhaps its most direct threat, as monster wildfires forced the town's evacuation and were held at bay only by heroic efforts at its very doorstep.
Estes Park, the picturesque high-country village that serves as the primary gateway to a national park that routinely draws more than 4 million visitors a year, has a year-round population of slightly more than 6,000. But in summer, when throngs of visitors escape the lowland heat for a dose of cool mountain adventure, the town grows by the tens of thousands, prompting adoption of paid parking in the downtown core and an accompanying all-day parking pass.
The challenge for the town and its economic-development infrastructure has been to build a more viable year-round economy while also addressing how best to improve the experience for the hordes of tourists that crowd the village in summer to browse its shops, dine in its eateries and head for the park, Colorado's most visited natural attraction.
Toward that end, the town has revived its Chamber of Commerce, hired a new permanent head of its tourism agency, started a municipal broadband system, welcomed a new business accelerator through the economic-development agency, introduced an electric trolley to transport shoppers, and is expecting construction to begin in January on a plan to turn downtown streets into a one-way loop with the aim of easing summer traffic jams. The Colorado Department of Transportation's "Bustang" service also resumed weekend service between Denver's Union Station and Estes Park.
Estes Park's alpine surroundings attract visitors and new residents alike. The Big Thompson and Fall rivers rush downhill from the park to converge in the center of town, and landmarks include Lake Estes and the iconic Stanley Hotel, which housed hundreds of firefighters in 2020 and then opened a theater and a chicken restaurant in its restored Carriage House in 2021.
Also at the Stanley, a film center and museum dedicated to the horror-film genre was given new life thanks to an extension of a state grant for tourism projects. New construction of the second phase of the $40 million center feeds off the Stanley's haunted history — including its role in the novel and subsequent 1980 film "The Shining."
After the pandemic forced cancellation of several annual events that generally provide big boosts to its economy, including the Rooftop Rodeo, Independence Day fireworks over the lake and the massive Longs Peak Scottish-Irish Festival on the weekend after Labor Day, the events roared back in 2021 and 2022. Golden aspen draw crowds of autumn leaf-peepers, and the bugling elk provide an enchanting background music.
Rocky Mountain National Park continued a new timed-entry system to address overcrowding in the park, a policy that initially drew mixed reviews from the town's tourist-oriented businesses until sales-tax revenue set a record pace. The park, Estes Park's main economic driver, has experienced a 44% increase in visitation since 2012 and is working to seek public comment on its long-range visitor access strategy.
The town also has been debating a competing economic driver: renting out houses as temporary lodging for vacationers versus a pressing need for affordable workforce housing.
Financial-technology firm SmartAsset in 2019 ranked Estes Park sixth for Best Places to Retire in Colorado, based on tax friendliness, recreational and social opportunities for seniors and availability of medical care. This year, Safewise.com ranked Estes Park Colorado's 10th safest city.