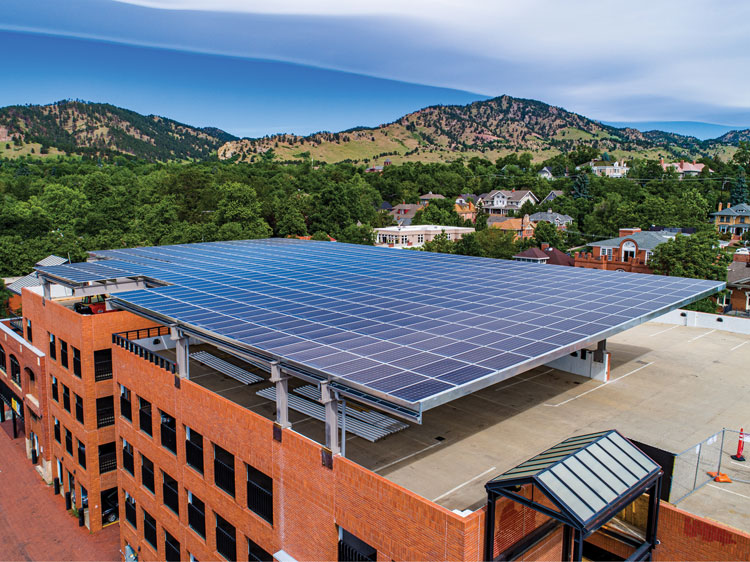 Brains, beauty continue to propel dynamic city
BOULDER — If anyone doubts the ability of a city with tough regulations and a median home price topping $1 million to lure job-creating business, just Google it.
Boulderites continue to watch online giant Google grow into its massive campus along 30th Street, lease even more office space and swell its Colorado workforce. Lured by an unsurpassed lifestyle and the brainpower of national laboratories and a major university, other good-paying corporations continue to knock on the door as well.
Sure, the traffic and affordable-housing issues can be a pain. But the Boulder Chamber's multi-year "Boulder Together" plan includes setting goals and working with the business community to solve them.
The Boulder Metropolitan Statistical Area continues to place near the top of U.S. News & World Report's Best Places to Live rankings, based on "its strong desirability, quality of life and job market scores." Boulder also has been recognized by National Geographic as the "happiest city in the U.S." One of America's top adventure towns, Bon Appetit called it America's Foodiest Town, Outdoor magazine named it the No. 1 sports town, Bicycling magazine branded it one of the best bike cities, and the Computing Technology Industry Association ranked it 12th in its 2020 Tech Town Index. It even ranked in the top 10 on the Wall Street Journal and Realtor.com's Spring 2022​ Emerging Housing Markets Index.
Few communities of 108,000 residents could claim as much international notoriety as Boulder. This scenic community along the Flatirons has attained a global reputation for its entrepreneurship, innovation, environmental consciousness, and, yes, occasional wackiness. Check out keepboulderweird.com to see some of the city's more eclectic side.
All of these elements and many more make Boulder a very special place, with an amazing quality of life that has fostered a dynamic, startup-friendly business community. Prices of homes and apartment rentals might be higher in Boulder, but that didn't keep the city from recording one of Colorado's lowest pre-pandemic unemployment rates.
Boulder's natural attributes and support from peer companies draw many entrepreneurs to the city — including a high percentage of female-led ventures. Here, they start and grow new businesses, attracting one of the highest rates of startup and venture-capital funding in the nation. Boulder-based accelerator Techstars has brought more acclaim and recognition to the city.
Boulder's unique setting and its lean, green, outdoorsy residents belie the high concentration of companies in the aerospace, bioscience, data-storage and software industries. National corporations such as IBM Corp., Ball Aerospace & Technologies Inc. and Lockheed Martin Corp. are there.
Industries continue to invest in Boulder. For instance, just in the past year, Meddux Development Corp. LLC, a contract manufacturer for the life-sciences industry, opened a new, nearly 22,000-square-foot facility in the Gunbarrel neighborhood, doubling its footprint. Boulder Sterilization, a division of Boulder iQ, the trade name for Boulder BioMed LLC, more than doubled its capacity for ethylene oxide sterilization of medical devices. And with an assist from a $1.7 million U.S. Department of Energy grant, German firm GKN Hydrogen Corp. and Southern California Gas Co. are partnering with the National Renewable Energy Laboratory to build an innovative hydrogen-storage subsystem at NREL's Flatirons Campus.
Workers in the Boulder area continue to rank as the best-paid in the state, Boulder ranks in the top 10 in the nation for number of patents issued and considers itself a center for alternative- and renewable-energy research and manufacturers of natural and organic products. Boulder also is regarded as the center of the nation's outdoor industry, and its iconic Bolder Boulder marathon returned after a three-year hiatus because of the COVID-19 pandemic.
These innovative companies reflect the intellectual energy found in Boulder, which is supported by several major federally funded science laboratories, and one of the nation's highest percentage of residents with college degrees. Boulder often tops Bloomberg's national Brain Concentration Index, which looks at metro areas with a population of 90,000 or more that have a high concentration of STEM workforce, advanced degree or science and engineering undergraduate degree holders, as well as a strong net business formation.
More than 30,000 students study in person or virtually at the University of Colorado Boulder, which tops the nation in NASA research funding. CU Boulder, the Rocky Mountain region's largest and most-comprehensive campus, offers 3,400 courses, boasts several Nobel laureates and works extensively with private businesses through its Technology Transfer Office. Its Leeds School of Business was included on a recent list of the top 50 best value undergraduate business schools in the country compiled by Value Colleges.
Boulder's historic downtown features the Pearl Street Mall, an award-winning 44-year-old pedestrian shopping, dining and entertainment destination. More retail and restaurants can be found in the city's central corridor surrounding the Twenty Ninth Street retail district. Boulder has more than 400 restaurants, including several that have received national acclaim.
Its resident symphony, four museums, dozens of movie and stage theaters, numerous festivals and more than 30 art galleries are reopening gradually, making the city again a haven for culture. Boulder also offers highly ranked public and private schools, three city recreation centers and growing, high-tech hospitals.
Dynamic growth is occurring on Boulder's east side, where the Boulder Valley Regional Center and Transit Village attract hotels, restaurants, offices, residential buildings and entertainment venues as it becomes a hub for regional rapid transit.
Just minutes away from all those urban amenities is the natural outdoors. Boulder residents work and play against a mountain backdrop that includes the iconic Flatirons and the Indian Peaks Wilderness Area. The city owns more than 45,000 acres of mountain and plains open space, with more than 200 hiking and biking trails.