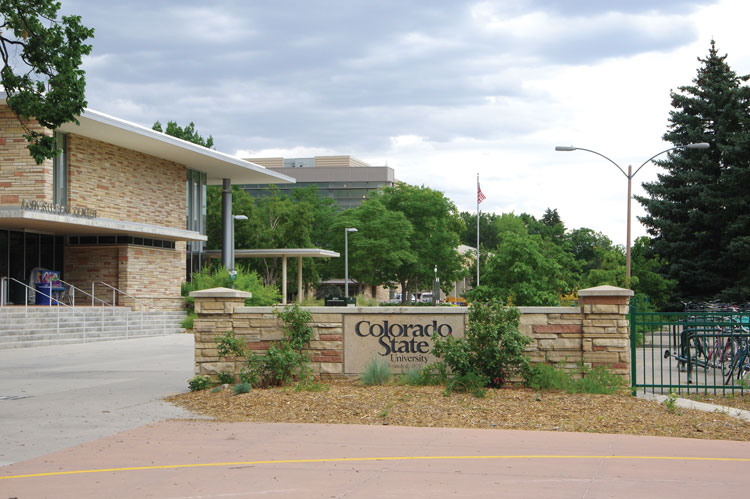 Region's universities fuel state economy
One critical factor in the strength of the Colorado economy — including its ability to outperform the nation during economic downturns — is the presence of institutions of higher education.
Economic contributions of institutions of higher education run into the billions of dollars in Colorado, with the Boulder Valley and Northern Colorado hosting the state's flagship institutions, including Colorado State University in Fort Collins, the University of Colorado Boulder and the University of Northern Colorado in Greeley.
Additionally, Aims Community College, based in Greeley, has campuses in Greeley, Fort Lupton, Loveland and Windsor. Front Range Community College maintains campuses in Fort Collins, Longmont and Westminster.
The CSU system generates almost 23,000 Colorado jobs and more than $237.74 million in state income and sales-tax revenue annually, according to a 2021 Economic Impact Report prepared by the university.
"Clearly, CSU plays a critical role in our state's future productivity and ability to remain an innovation hub in economically important industries," CSU System chancellor Tony Frank said. "We're not manufacturing a product; we're educating people who contribute to society in all the ways educated people do — as teachers, scientists, doctors and nurses, business leaders, manufacturers, technologists, artists, engineers, and the countless other roles that are typically filled by people with higher education."
The study — conducted by Rebecca Hill, Harvey Cutler and Martin Shields — found that 112,500 CSU System alumni earned an estimated $7.57 billion from their jobs in 2019. The report also found that total direct and indirect employment impacts total 17,300 jobs in Fort Collins, out of the city's total 84,000.
"The CSU System's economic impact is felt statewide by bringing in money from federal agencies, out-of-state students, and by transferring knowledge to businesses and industries across Colorado," the authors wrote in the report. "The CSU System's economic impact in Fort Collins and Pueblo includes factors considered in the statewide impact, plus money injected into the region from both state government and students from across the state."
The latest Economic Impact Study prepared by the Business Research Division of the Leeds School of Business at the University of Colorado Boulder found that four University of Colorado campuses generated a total economic impact in Colorado of $14.2 billion in fiscal year 2019. That figure includes CU Boulder, the University of Colorado Colorado Springs, the University of Colorado Denver and the University of Colorado Anschutz Medical campus. (The numbers also include Anschutz campus hospitals including University of Colorado Hospital and Children's Hospital Colorado.)
The university system employed — direct and supported — 62,099 faculty, staff and student workers, making it the fourth-largest employer in Colorado. CU Boulder employed 26,853 workers.
CU enrolled 67,386 students in 2019 and awarded 16,917 degrees in fiscal year 2019.
The university generated $4.6 billion in non-capital revenues in 2019, with $1.4 billion coming from sponsored programs and other restricted-fund activity. Sponsored programs came primarily from the National Institutes of Health, the National Science Foundation, NASA, the U.S. Department of Defense and the U.S. Department of Health and Human Services.
The study identified $927 million in student spending in 2018, with visitors related to the campuses spending an estimated $43.5 million.
The CU study follows a study analyzing the economic impact of public higher education on Larimer and Weld counties. CSU, UNC, Aims and Front Range generated an economic impact of $3.9 billion in 2017-2018, according to the study by Emsi, a Moscow, Idaho-based firm.
Highlights from the report include:
Research spending at the four schools generated $299 million for the region in 2017-2018.
Construction spending totaled $126 million. 
Startup and spinoff companies generated $227.9 million.
Contributions from alumni currently employed in the regional workforce amounted to $2 billion.
Payroll, expenses and employee spending accounted for $1.1 billion.
Employment of 50,594 jobs supported in Larimer and Weld counties.
And UNC's economic impact appears poised to grow, with the university receiving state approval to launch an osteopathic medical school. It will be one of only two public medical schools in the state.