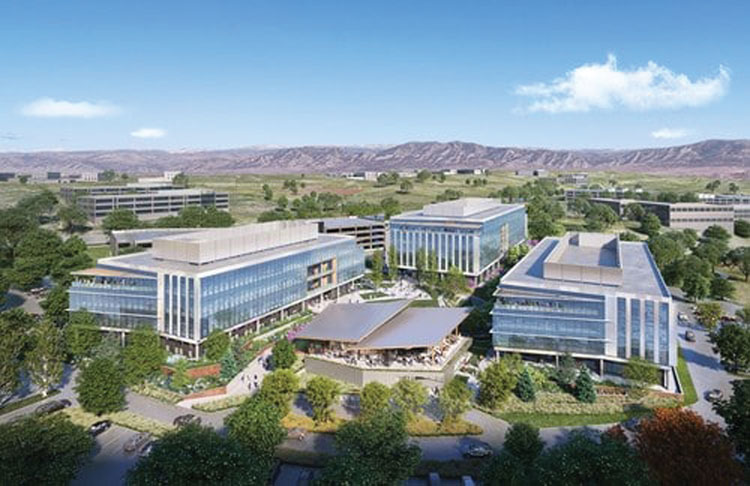 COVID highlighted region's bioscience industry
The COVID-19 pandemic highlighted the strength and capacity for innovation within the region's bioscience industry, particularly in the Boulder Valley where a number of pharmaceutical and medical-device companies entered the fray to beat back the virus.
The industry's hot streak has continued into 2022 and has blasted the flex-industrial real estate market into the stratosphere as companies flock to talent-rich areas near major research institutions such as the University of Colorado or Colorado State University.
The developers of Redtail Ridge, Brue Baukol Capital Partners LLC, this summer announced plans to create a $1-billion-plus commercial park to cater to the needs of biotech tenants.
Maryland-based St. John Properties Inc. is building the 14-building Simms Technology Park on a roughly 80-acre parcel in Broomfield near the Rocky Mountain Metropolitan Airport that is expected to cater to biotech tenants.
Dallas developer Lincoln Property Co. and investor Federal Capital Partners are developing CoRE — Colorado Research Exchange in the Interlocken business park. The project will include 450,000 square feet in four buildings, with the aim of attracting life-sciences tenants.
California office and industrial real estate investor SteelWave LLC, which bought the Medtronic Inc. campus in Boulder's Gunbarrel neighborhood in early 2022, dipped its toe into the Boulder biotechnology property scene again this month with the purchase of a three-building Wilderness Place campus that's home to disease-diagnostics firm Biodesix Inc. (Nasdaq: BDSX).
Representing the single-largest single-asset transaction in Colorado's history, BioMed Realty LLC in April bought a roughly 1,000,000-square-foot, 22-building portfolio in Flatiron Park from Crescent Real Estate LLC for $625 million, with the goal of attracting more biotech tenants.
Despite the overwhelmingly positive momentum, it's not all rosy for local biotech firms, with some publicly traded companies struggling to maintain listing on their exchanges.
Fort Collins-based Statera Biopharma Inc. (Nasdaq: STAB) has sold its rights to produce several of its drugs as it seeks to shore up its financial position and maintain its Nasdaq listing, while Boulder's Brickell Biotech Inc. (Nasdaq: BBI) has received several delisting warnings in recent months from the exchange.